https://www.mtexpress.com/arts_and_events/willie-waldman-does-what-he-wants/article_71fdb95a-a8ad-11ed-9a2f-7770b9510d50.html
Willie Waldman does what he wants
Jazz fusion show hits The Mint Saturday
Over the years, Willie Waldman has helped artists like blues guitarist Jimmie Vaughn win Grammys. He's appeared on the hip-hop releases of famed Death Row Records. He's even supported pop icons like Christina Aguilera to Paula Abdul in the studio.
"Some of them I didn't get credit for," Waldman said. "I can prove it with canceled checks, if you'd like to see. I was just a little side studio kid everybody forgot about."
These days, though, it's imperative to the trumpeter that he leads the band
"Now I have the freedom to blow all night," Waldman said.
The mind-bending jazz fusion of the Willie Waldman Project will come to The Mint, Saturday, Feb. 11, at 8 p.m. Tickets cost $25.
For all his studio success, Waldman says the live stage remains a sacred space.
"We're doing improv, so we're writing the music every night," Waldman said. "What I play at The Mint will never happen again."
Their shows oscillate between blues and reggae.
Willie Waldman project
Date: Saturday, Feb. 11
Time: 8 p.m.
Location: The Mint, Hailey
Cost: $25
"I could go from doing a Latin tune to doing a Chris Cornell vibe," Waldman said. "It's fun to have flexibility like that. I'm not stuck to some manager telling me I gotta sound the same way every night, I gotta play the same."
His drummer, Terry Saffold, has played with Isaac Hayes and Al Green.
"We'll keep the fun, funky party vibe going—George Clinton meets Miles Davis," Waldman said.
As the band plays, Norton Wisdom will paint live. The artist has had work shown at the Getty.
"Wisdom was a Hollywood guy, so he knows pretty famous people," Waldman said. "We met Christopher Guest from 'Spinal Tap.' I had Clint Eastwood pop up at a gig on me."
When the Express called Willie, he was constructing a snow cave in his hometown of LaPorte, Indiana. He isn't a person you converse with. You just sit back and listen to him tell stories.
"Tonight, I'm playing in a bar where the girl just won the silver medal in the moguls at the World Championships," Waldman said. "They want jazz."
Recently, he played in a country bar and ended up with $350 in the tip jar.
"That was huge to go in with no cover tunes and pull off jazz fusion," Waldman said.
He has been coming to perform in the Wood River Valley since the turn of the century. His manager planned a tour of ski towns. His response: "What are you talking about, Sun Valley? The middle of Idaho?"
"We're doing improv, so we're writing the music every night. What I play at The Mint will never happen again."

Willie Waldman

Jazz Musician
When they arrived, it was 20 below.
"We just fell in love with Ketchum," Waldman said. "We still got a bunch of the same friends."
Waldman's solo work followed an expansive career as a session musician. Back in 1994, he worked in the Death Row Records studio. He and his musical partner Dave Aron were self-proclaimed Dead Heads.
"Even though we weren't hip-hop guys, or even ever liked it or anything, they actually turned out to be awful nice," Waldman said.
One night, at 2 in the morning, Snoop Dogg walked in with 30 guys.
"The session went real good," he remembers. "They loved us."
Waldman plays on Tupac's "California Love."
"Tupac didn't come into the studio with a notebook full of songs," Waldman said "It was very creative. You walk in every day fresh. You just start with a drum machine. It starts flowing and this guy would make up lyrics on the spot."
They made three songs a day.
"You'd get a song done in about six hours, maybe eight max, and it'd be done and on its way to on the radio," Waldman said.
Many rappers' ears perked up when they learned Waldman played the trumpet. Much of his early brass contributions to artists like Wu-Tang were imitating their visions.
"If I did a horn part, I had about 15 minutes for it," Waldman said. "You weren't taking it home and working on it."
He discovered his voice on Coolio's "Can-O-Corn," jazzing up the woozy beat with fluttering chromatic trills. The song would go on to win a Grammy.
"I was more impressed with that than the beach music everybody loves," Waldman said.
The success at Death Row opened up many doors for Waldman. He played trumpet on Sublime's ska anthem "Date Rape."
"They were a real pack of f–k ups," Waldman said of the band. "It took months and months of piecing stuff together to get a song."
When Waldman recorded his solo album "Trumpet Ride," he recruited a star-studded cast of who's who in the jazz scene, including legendary multi-instrumentalist Greg Kurstin.
"He started working with Britney Spears in 2004," Waldman said. "And out of all my guys, he's the one that's gotten the biggest."
Kurstin became a millionaire, winning Grammys for producing Kelly Clarkson and the Foo Fighters. That path is great for Kurstin, but Waldman said it wouldn't suit him.
"I'd be bored to death," Waldman said. "I like to be creative." 
Willie Waldman Project with Stephen Perkins at the Mangy Moose
by Buckrail @ AaronFebruary 8, 2023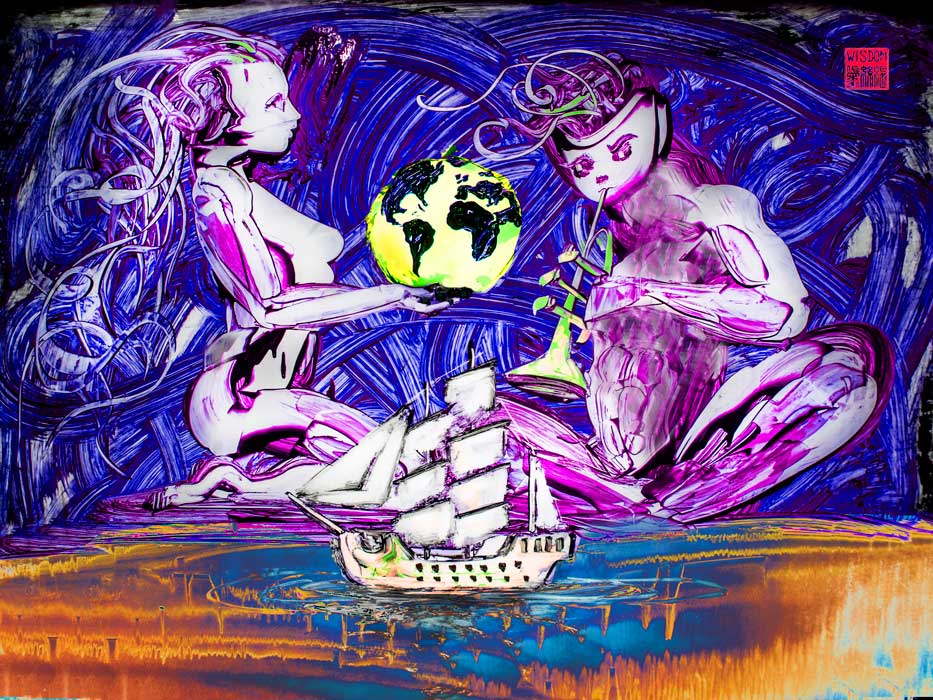 TETON VILLAGE, Wyo. — Jazz-fusion is one thing. A completely improvised live performance with a live painter is another. Enter Willie Waldman Project. The art of group composing on the spot takes a creative set of musicians with sharp ears that can have instantaneous musical dialogues. The experimental evening of music at the Mangy Moose will include Waldman on trumpet, drummer Stephen Perkins (Jane's Addiction, Banyan), guitarist Eden Perkins, live painter Norton Wisdom, legendary Memphis drummer Terry Saffold, vocalist Nic Placek, and two veteran Teton County musicians—bassist Andy Calder and guitarist Jeff Eidemiller. The upcoming Twenty Below Tour will feature four local performances: Feb. 8 at Tetonia Club, Feb. 13 at the Mangy Moose, and Feb. 14-15 at the Trap Bar at Grand Targhee Resort.
The name Willie Waldman might not strike an immediate chord, but it's one you'll find in the liner notes of great artists and groups such as Banyan, Rob Wasserman, Perry Farrell and the late Tupac Shakur. He's been called "one of the white boys" of Death Row, working with the label since its beginnings and blowing trumpet on some of the biggest hip-hop records released. Waldman's trumpet can be heard on albums by Warren G., Sublime, Tupac Shakur, Salt-N-Pepa, and others.
A childhood fascination with the trumpet led Waldman to his high school band and eventually to a scholarship at Memphis State University. While in Memphis, he began playing in Beale St. clubs and eventually hooked up with Herman Green, Calvin Newborn, and Jimmie Ellis at Club Hardy. The band morphed into Freeworld, which was a fusion band that met some commercial success and toured with Stevie Ray Vaughn, the Robert Cray Band, Albert King, and Joe Cocker.
https://www.facebook.com/100000474812643/videos/pcb.9551039411588458/527226036066419