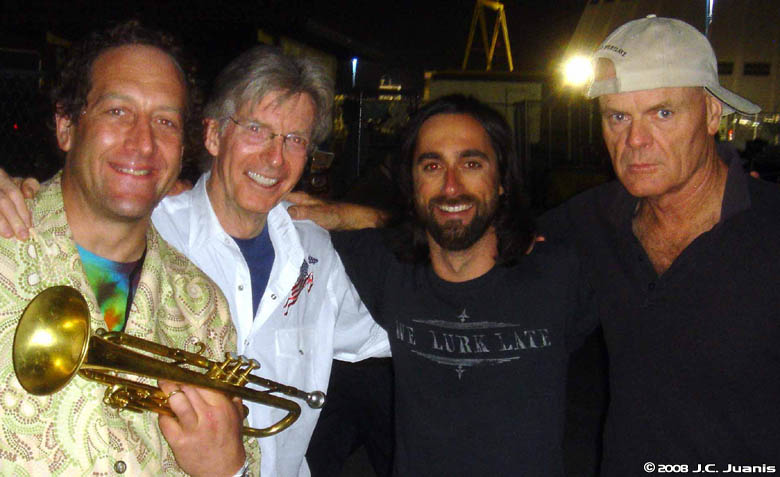 A flashing sign at the gate announced we were entering a zone where ALL Federal laws would be enforced. It's a fairly off-putting greeting but ultimately things proved a lot cheerier inside the expansive NASA/Ames Complex. The scale of the place is intimidating with cloud scraping hangars and concrete blocks rising out of a landscape that looks like an abandoned set from Gomer Pyle – dilapidated shacks and metal tanks lining avenues dotted by a ghostly, abandoned McDonald's franchise and boarded up gas pumps. Once a primary West Coast military hub, Moffett Field no longer has the budget to gussy things up but that hardly mattered to the small army of glitter children that descended on the facility for Yuri's Night Bay Area 2008, a peculiar, lively gathering of quasi-futuristic music and very forward thinking science.
The musical attractions included numerous top flight DJs, several fine emerging dance bands, Particle, Amon Tobin and the debut outing by Telstar, a new improvised instrumental project featuring Phil Lesh (bass, MIDI triggers), Steve Molitz (keyboards), John Molo (drums) and previously unannounced guest trumpeter Willie Waldman. The Main Stage hosted most of the live acts and the intricately decorated Annex Stage – a marvel of hypnotic lights and Klingon architecture – housed the nonstop DJ spinning in a near constant smoke machine haze. The trip energy pouring out of the Annex, even as early as late afternoon, was sticky, palpable and undeniable. Despite this being a bonafide science symposium, there were many who skipped the lectures (yes, honest to god lectures!) and engaged in a little healthy "self-education" on the seething, sighing concrete dance floor.
Yuri's Night is a clamorous environment, full of bleeps, strobe flashes and all manner of whirring distractions. After you walked beneath a towering metal spider with a slow rotating red eye at the gate you encountered a curious mix of urban pagans, lollipop ravers, Oxford shirt tech geeks, gaggles of Star Trek and X-Files fans and not a few aging hippies. It's fair to say these groups don't party together very often and sometimes the sheer incongruity of it made folks awkward like some surreal junior high social gone askew. While music pumped from various corners, you also had the option of listening to very smart people talk about moving goods & humanity in "small packet" mass transit systems or (and this is no joke) the properties of functionalized carbon nanotube based gas sensors. Satellites beamed down images of the Earth and the Moon and aerial performers and stunt jets twirled over our heads. If Cirque de Soleil ran M.I.T. it might look a lot like this.
Tipper worked the turntables near sunset in the Annex in a thick, deliberate way, the percussion hitting us like cannon fired cinderblocks or bricks rebounding off a trampoline. Video accompaniment in real time added to the sweeping atmosphere that only intensified as the night grew darker. Jugglers split the air as Tipper laid into a cowbell clank with a Brazilian undercurrent. Over on the Main Stage, Sweet Snacks did Devo and Afrika Bambaataa proud with a deliciously raw, simple electro swing with chants like "Homo Sapiens got it/ Work your body with Illuminati" and "This is not a holy war/ Dance you fools!" The clean room suits, cute little black dress on their lead singer and general post-modern effervescence was kinda intoxicating.
Lesh snapped me out of it with a thumb whack worthy of Jaco Pastorius or George Porter Jr., Phil finding his inner fusion god and letting him out into the light. While not especially deep, this completely improvised music full of monumental builds and solid rhythmic foundations was satisfying, if you didn't dig too much past the surface. Possessed of a laidback cool, even when they poured on heat – notably Molo's whirling Shiva arms of steel – it was like eavesdropping on a comfortable conversation between cunning linguists. So skilled was this quartet that even the few missteps and fumbled cues hardly took away from their playful exploration in a space built large enough to hold their skyward ramblings. Next to colossal buildings and antique parked aircraft, one felt slightly freed from the smallness of things in 2008. So, when a flying saucer landed behind them on the screen and Molitz unearthed his funky Herbie Hancock streak, it was easy to let go and rise above the strip mall culture outside the gates while they noodled pleasantly.
Over at the rave cave, Amon Tobin was easing into a steady rumble, perhaps the landing gear of that UFO touching down nearby, the room awash in exhaust and curious, alien odors. A dubby hip-hop thump fueled some primo poppin' & lockin' just outside the hangar door. With a single breath's pause, Tobin unleashed a drum 'n' bass electrical storm that exploded in pockets around the floor, turning white jumpsuit wearing b-boys into slow falling zombies that jerked and sputtered away at a turtle's clip. What Amon Tobin crafted, sans words, was a dark, absorbing narrative as compelling as any vocal music I've heard. The emotional highs and lows were intense, and the complexity and challenging nature of what he did was a touch risky with an audience expecting to move. That he ground away and probed for something more substantive than just another set atop his DJ pyramid was impressive as hell.
My last taste of music before sleep jumped me was Particle with guest guitarist Brian Jordan (KDTU, Blusirkut). Opening with a fast drum break and quickly jettisoning the patient builds of Telstar, the band dug in, hard bass pawing us like an overanxious teenage date and Jordan working the outer edges of the thrust like a blue flame. They've been described as "space porn" a time or two, and that hip-grinding feel remained, a fine wordless soundtrack to dirty sex and bloodied nostril tomfoolery. While they still sometimes reminded me of the Dr. Who soundtrack dialed up a few RPMs, Particle is a fine bit of party rave cheese played by guys who know what they're doing with their instruments. Like much of the music at Yuri's Night, it might not have penetrated much but it got the job done and fit the overall high tech carnival atmosphere well. If we had to put up with the occasional New Age introducer telling us, "Don't forget when you're dancing to dance the energy into the Earth. Dance in newness, freshness," well, it was nice to be around so many creative, switched-on folks gathered for a brighter future or maybe just an enjoyable night under the stars.
https://archive.org/details/paf2008-04-12.telstar.neumann.91891.flac16
Publication date 2008-04-12 ( check for other copies)
Collection PhilLeshandFriends
Band/Artist Phil Lesh and Friends
Phil Lesh (bass, vocals)

John Molo (drums), Steve Molitz (keys)

Willie Waldman (trumpet, fugelhorn)



Imrovisational / Experimental

Jazz / Electronica

All Along the Watchtower

Fly Like an Eagle

Particle Also Played

Doogles said "…We walked in under the legs of a War of the World robot/alien standing two stories tall.

To the left were two hangars, one packed with science experiments, and the other conducting a science experiment

of it's own by throwing a Burning Man-style rager… the tarmac was filled with airplanes, jets, drones, and a

fire-breathing robot. The outdoor stage hosted Phil & Particle… I've never heard a Phil set quite like what we heard [here].

It was entirely improv and took a while to get the rocket engines started, but once they were going we blasted off to sound

bending nugs that set us free to explore outer space and inner space at the same time…"Addeddate 2008-05-17 16:31:29
Identifier paf2008-04-12.telstar.neumann.91891.flac16
Location Moffett Field, CASource
Neumann skm 140s->Sound Devices 722->Resample-1.8+(24/192->16/44.1khz)
Taped by CaliPhilType sound
Venue NASA Ames Research CenterYear 2008
Reviewer:TimmyFromTucumcari – favoritefavoritefavoritefavoritefavorite – May 19, 2008
Subject: Phil !!!Thanx for this piece of histioric California folklore… The audio quality is nice. Ever since the demise of The Grateful Dead, Phil has been a maveric in hitting the road with, what many concider the primo bands, utilizing the most energetic musicians & striving for the ultimate sound. Bravo, Phil!
2,067 Views
2 Favorites
DOWNLOAD OPTIONS
download 11 filesFLAC download 11
filesOGG VORBIS download 1 file
TORRENT downloaddownload 1 file
VBR M3U downloaddownload 11 files
http://philzone.com/philbase/philbase_08.html